Worldwide Xpeditions
is your vacation travel guide
to Adventure travel in North and South America, Europe, Asia, Africa , New Zealand, Austrailia and elsewhere. Our adventure travel links provide information on photo safaris, sightseeing, ecotours, and serious fishing and hunting trips with
worldclass Adventure Travel Lodges and Guides.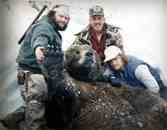 Alaskan
Wilderness Expeditions
Hunting consultants
and booking agents
Expeditions consist largely of travel. To paraphrase an old saying, it's not the destination but rather the journey to get there that should most appeal to your soul. To arrive at many of the destinations in this guide, you will use one or more of the following: commercial air travel, trains, boats, bush planes, off road vehicles, and/ or your feet. The type of transportation you use to reach your destination depends of course on the location you wish to reach, time constraints and your route of travel. A slow boat to China will get you there and might be very enjoyable ...if you're not in a hurry. This guide will help you explore the alternative means of "getting there".
| | |
| --- | --- |
| Expeditions by Location | Expeditions by Type |




Adventure Cruises
ATV Tours
Bicycle Tours & Mountain Biking
Big Game Hunting Adventures
Canoeing
Cattle Drives & Working Ranches
Cross Country Skiing
Dog Sledding Vacations
Dude & Guest Ranches
Ecotourism & Cultural Tours
Fishing Guides & Charters
Fishing Lodges
Heli-Adventures
Heli-Skiing
Hiking & Trekking Tours
Horse Pack Trips & Trail Rides
Houseboat Rentals
Jungle Lodges
Kayaking
Mountain & Rock Climbing
MultiSport Adventures
Railway & Train Tours
Resorts, Spas & Retreats
Safaris
Scuba Diving Vacations
Snowcat Skiing
Snowmobiling
Surfing Vacations & Camps
Wagon Train Vacations
Walking Tours
Whale Watching Tours
Whitewater Rafting
Wildlife Viewing Tours

HUBS
All countries, states, and provinces have airlines hubs from which your expedition
will begin.

In Alaska, the main Hub for SouthCentral, West and SouthWest Alaska is Anchorage. All major airlines have flights to Anchorage. For the Interior and the Arctic, the Hub is Fairbanks. For SouthEast Alaska, the Hub can be in Ketchikan, Juneau, or Sitka.
In all other states, it is invariably the largest city in the area you wish to explore which has direct flights from country wide Hubs (Chicago, Denver, Salt Lake City, St. Louis, etcetera depending on the airline you wish to use).

In South Africa, the Hub is Johanesburg and it is frequently the Hub for regional
flights to other countries in Southern Africa such as Zimbabwe, Botswana, Namibia, and Tanzania.
REGIONAL HUBS
Most regional Hubs are within individual countries, with the exception of sparsely populated countries or provinces where one Hub may serve several countries or provinces. For example, Johanesburg serves as a Hub for all the countries in the Southern part of Africa (in addition to the country of South Africa). By way of further illustration, if you were going on safari to the Okavanga Delta of Botswana from the East Coast of the United States. You would should probably try to book a flight from NYC direct to Johanesburg, where you would pick up a regional flight to Maun, Botswana. From there you would have to charter a private bush plane (or your safari company will charter one for you if they don't have their own) to fly you into a dirt strip fairly close to your camp. Accordingly, the primary Hub is Johanesburg and the regional Hub is Maun. The trick, of course, is finding an airline carrier that you like that actually services the primary Hub, if not also the regional Hub.



Alaska Internet Marketing, Inc.
Hosting-Design-Internet Advertising
Anchorage, Alaska
(907) 274-9954
Email: info@alaskaoutdoors.com


The Outdoor Adventure Network
AlaskaOutdoors.com AlaskaMall.com Alaska-Vacations.com
Alaskan-Fishing-Lodges.com Alaskan-Vacations.com
America-Outdoors.com American-Sportsmen.com
AlaskaHuntGuides.com
Alaska-Fish-Guides.com AlaskaAirCharters.com
Alaska-Hunt-Guides.com AlcanTravelGuide.com
Alaska-Hunting-Fishing-Lodges.com
Alaska-Sportfishing-lodges.com
Worldwide-Sportsmen.com
Alaska-Bear-Hunts.com Alaska-Moose-Hunts.com
OutdoorsMegaMall.com GreatAlaskaMall.com
Alaska-Fishing-Hunting-Guides.com
AlaskaFishGuides.com
Worldwide Expeditions and Adventure Travel

WorldwideXpeditions.com was designed to provide adventure travel information and the most exciting alternatives for vacations around the world. Start planning your expedition now for a truely adventurous vacation. Be aware that while some of the adventure travel listed in this website is in comfortable full service lodges, other expeditions (particularly the unguided) may be dangerous and may be accompanied by substantial risks. The information provided herein is provided by third parties, sometimes from remote parts of the world, and we make no representation as to it's truthfulness or warrant any of the services offered. Users of this website must assume all risks attendant any bookings they may consumate.